2008 Mitsubishi Lancer Evolution 9 MR FQ360 HKS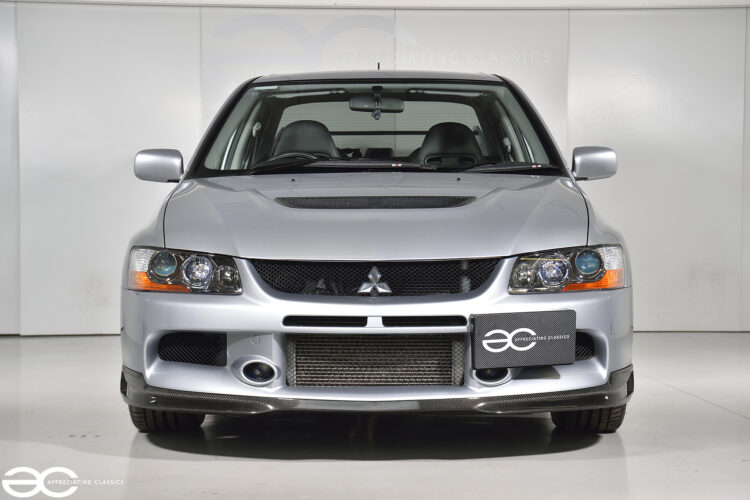 Brief
Viewing by appointment only.
A stunning low mileage Evo 9 FQ360 HKS with only 18,418 miles & great history from new!
Totally unmodified.
Without doubt a modern classic & very sought after, particular examples such as this one.
This was the last Evo model to use the 4G63 engine & Mitsubishi wanted to make sure they gave it a perfect send off.
0-60mph in 3.9 seconds
366bhp
363lb ft
So this car is the end of an era, it has fantastic performance, it also has rarity as Mitsubishi only produced 200 examples!
With the production of the Mitsubishi Evolution now stopped, Evolution's are strongly on the rise & demanding serious interest.
Stunning example
Wheels are original (not refurbished & still have the original Speedline print on the rims)
Comprehensive Service History
All original booklets in original wallet
Full MOT history
Unmodified
Mitsubishi shipping manifest
Un-used spare key (still with original plastic sleeve)
A sure fire investment that you can enjoy!
History
Within the history file is superb service history, backed up by matching invoices to the service stamps within the original service booklet.
Sold to the second owner by Xtreme UK Ltd (previously Ralliart UK) with 4,000 miles from new.
The car remained with the second owner from late 2008 for the majority of its lifetime, however in 2016 the owner sadly fell ill so the car was used very little with it being in storage until 2020 when it was recommissioned by Jon Kirkham Specialist Cars (previously Xtreme UK Ltd).
Of course also in the file is the MOT history dating back to the cars early life, along with all original booklets & very rare, is a copy of the original Mitsubishi shipping manifest detailing all the FQ360 HKS cars when coming to the UK originally.
Below is the service history.
2008 – PDi – 26 miles
08 – 1,232
08 – 4,041
09 – 5,992
10 – 6,795
11 – 10,171
12 – 11,694
13 – 12,756
14 – 14,204
15 – 15,026
20 – 15,406 (most recent cambelt service)
21 – 15,417
23 – 17,882
Body & Paintwork
We use paint depth measuring devices to be 100% sure of paintwork originality, we can confirm that the paintwork on this example is totally original.
The car has no dents, or car parking marks & all badges are complete.
All glass is original & all carbon fibre trims are in excellent condition.
Lights look stunning all round, with no damage at all.
Only a few very light stonechips are present on the car, these are extremely minor, especially considering how thin & soft the paintwork is on Evo models.
A truly gorgeous example.
Interior & Trim
The interior of this example demonstrates very low mileage, along with great care.
The stitched seats looks superb, with only the smallest of wear marks on the drivers bolster but that is being very fussy!
Piano black dash inserts are again, unmarked & without the typical cleaning marks/scratches.
Everything works just as it should do, original Ralliart floor mats are still fitted, along with the optional stereo fitted.
Rear seats look like they have never been used, & the back of the front seats are as new with no scratches or foot markings.
Engine
What an engine!
The Evo IX MR FQ360 was the last of the 4G63 engine, and Mitsubishi wanted to make an impact.
With titanium turbo impeller, MIVEC, HKS hardpipe's, high flow fuel pump, HKS exhaust, HKS ECU & more, they certainly made an impact!
With 366bhp & 363lb ft these cars are extremely capable, & fast even by today's standards.
0-60mph in 3.9 seconds with a manual gearbox & no launch control!
Having ran the 4G63 engine through the Evolution range, from the Evolution I to this, the Evolution IX MR FQ360 HKS, this limited edition end of the run model is quickly becoming very sought after.
The engine bay itself presents very nicely indeed, being totally original without any modifications from new.
This particular example is nice and quiet, both when cold and warm.
No smoking at all, either on start up, idle, boost or overrun.
The car performs perfectly through the rev range, with no hesitations, and is guaranteed to put a smile on your face.
Running Gear
As per the rest of the car, the running gear is simply spot on.
The original Bilstein suspension is in very good order, still nice bright yellow legs.
Original Brembo calipers are showing no signs of lacquer peel or 'pinking' (very common failure).
Likewise the original Sppedline alloy wheels are in the original finish, still displaying the original 'Speedline' print on the rims, along with perfect centre caps.
The underside of the car itself is very good, with no damage or corrosion & it has recently had a light dry ice clean.
The original HKS exhaust system is also is great condition.
All tyres have great tread depth & are of a premium brand, as you would expect with comprehensive servicing, brakes work perfectly, clutch operates as it should do, & the gearbox is a joy to use.