2008 Mitsubishi Lancer Evolution X RS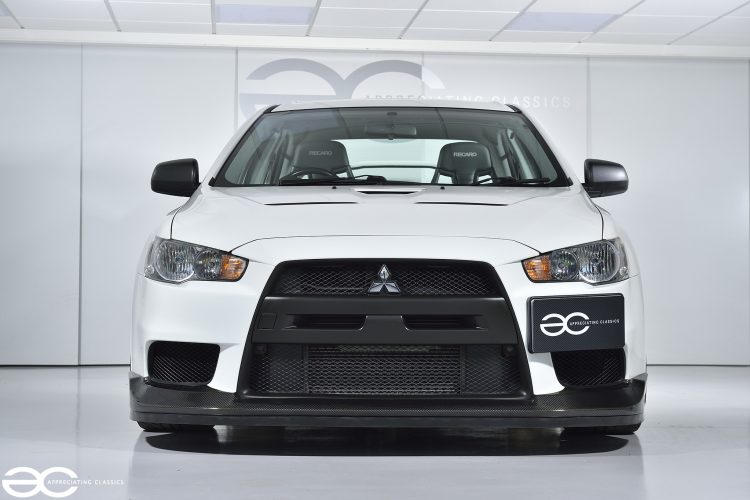 Brief
Here we are pleased to offer this stunning Mitsubishi Lancer Evolution X RS.
For those who are not aware, the RS variant of the legendary Mitsubishi Lancer Evolution's, is the lightweight more 'hardcore' variant.
35k miles
Grade 4.5B
2 keys
Japanese service history
Stunning underside condition
395bhp / 400ft lb
Freshly serviced (Feb 2018)
This Evo X RS wants for nothing, and is in superb order.
Benefiting from a few high quality and subtle upgrades, this example is not one to be missed.
History
The Mitsubishi Lancer Evolution X (10) RS –
As with earlier 'Evo's', the RS variant of the Evo 10 was the lightweight, hardcore version for the driving enthusiast.
With unnecessary trims left at the factory, Manual gearbox only, and mechanical rear diff, this car certainly puts a smile on your face, even more so than Mitsubishi ever intended themselves, thanks to a few very sensible upgrades that have been carried out on this example.
This particular RS was imported in 2017 by renowned importers, Torque GT who only deal in high quality Japanese vehicles.
With Japanese service history, and being a grade 4.5B you can rest assured that this is in superb condition and of course is Japanese HPI clear.
Having had a service in February 2018, this car is ready to be enjoyed by its lucky new owner.
Body & Paintwork
The paintwork on this car is in very good condition throughout, and having measured the paintwork with our high quality paint depth gauge, we can confirm that the paintwork appears to be original across the car (we cannot measure plastic panels).
Having had a full detail recently, the car has a beautiful gloss finish across all panels, with none of the usual cleaning marks from years of poor cleaning methods – this car would look at home on display at a car show with its gleaming finish.
All lights are also in great condition, as are the badges.
An FQ360 carbon fibre front splitter has been fitted which is in great condition, and works perfectly with the lightweight Rays Engineering CE28N alloy wheels which are fitted.
These items help to make this RS stand out from the crowd and are a vast improvement over the original 16″ wheels which are standard on the RS model. (original wheels are included).
Of course, the Rays Engineering wheels are in unmarked condition.
As you can see from the pictures, even the inside of the exhaust tips are spotless.
Interior & Trim
With a couple of subtle upgrades, the interior of this Evo 10 is a fantastic place to be.
With the addition of the MR seats, along with the Alpine headunit with bluetooth handfree, and apple car play it combines some of the luxuries of modern motoring, whilst still being simple enough to maintain its raw feeling of being a lightweight drivers variant.
The interior itself could easily be described as immaculate – the dashboard and trims are free of any nasty holes for aftermarket gauges or such like, and everything works just as it should do.
Original RS rear seats look as if they have barely ever been used, whilst the MR front seats are also in great order with only minimal wear and nice bolsters, save for the drivers seat lower bolster which is just a little softer than the others but still presents very well and holds you in place firmly.
The carpets are without any damage, and floormats are fitted.
With the usual suspects still presenting well, being the steering wheel, foot pedal rubbers and gearknob, this is certainly not your typical average Evo, it is a beautiful example.
Engine
The engine bay presents just as well as the rest of the car, looking clean and well cared for.
First turn of the key, and the car fires in to life with a lovely burble from the cat back exhaust system – not too loud but enough to let you know that this is car means business, and with 395bhp and 400ft lb of torque, it certainly does mean business.
The engine itself runs very quietly even from cold, with no tapping or rattling, and the car does not smoke at all, either on start up, on boost or on overrun.
Performance is fantastic, and the car accelerates strongly through the rev range with no flat spots or hesitations.
Having said this, the car is just as happy to be driving at low speeds in city traffic, and is not a one trick pony, this is a car with split personality that can do the mundane during the week, and be enjoyed immensely at the weekend as a fun and extremely capable machine.
Running Gear
As with the rest of the car, all running gear is in superb order.
Having had Ohlins suspension fitted (highly regarded as one of the best options for fast road driving), along with Godspeed brake discs, CL RC5+ brake pads, and Yokohama AD08R tyres, the handling and stopping power is simply sublime.
The underside of the car itself is in excellent condition, with none of the usual corrosion issues as is so common with these cars.
When imported in to the country in 2017, the car had black underseal applied. This has since been removed, and Dinitrol clear underseal applied so the superb condition of the chassis can be seen.