1987 Black Ford Sierra RS Cosworth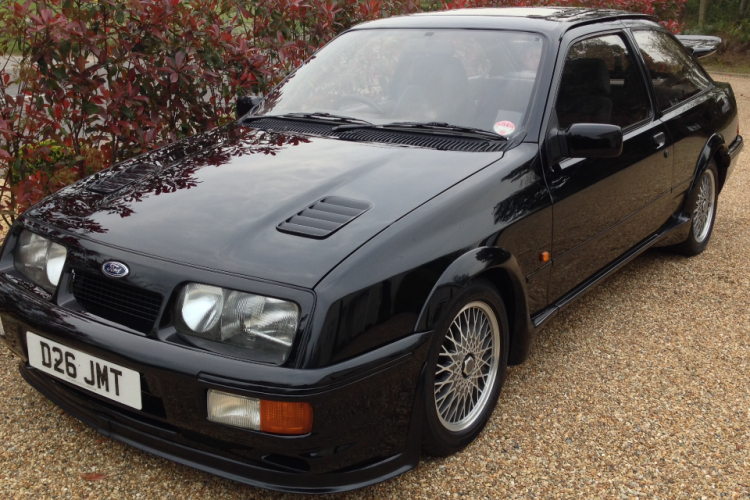 Brief
A rare opportunity to purchase a fantastic 3dr Sierra Cosworth in Black…
Not your usual black Cosworth, the paint on this one is fantastic, no distorted panels, no dents and best of all the paintwork gives a fantastic shine, it really does look fantastic!
Same family owned for last 18 years
(Father, Daughter, Son).
This has been a well loved car, and has always been kept dry, and has always been garaged.
Hard to find such a straight and honest Cosworth nowadays, without spending £20k+
The car has just had a major service (detailed further within the listing), so you have full piece of mind.
History
All old MOT's are with the car, as well as handbooks, old tax discs and many many receipts.
Also original dealer stamped service book with 9 service stamps (after this lots of receipts for any works carried out and subsequent services).
Vehicle also has 9 original Ford Booklets.
Car comes with 2 sets of keys
Some owner history of the vehicle below.
Supplied new by Dees of Croydon 1st Jan 1987
Sold to:
Morris Czechowicz of Billericay (MD of one shot music limited)
Sold to Paula Hagon
Sold to Victor Mario Cassar (5 years)
Friday 27th September 1992 (£6,000)
43,043 miles
Sold to:
Mr Steven Vaughan (10 years)
16th march 1997 (£7,800.00)
87,030 miles
Sold to Emma Vaughan (6 years)
11th May 2007
Sold to Colin Vaughan
1st May 2013
Full Mileage record from new:
March 1987 2,202
October 1987 6,808
April 1988 11,505
October 1988 18,900
March 1989 23,098
May 1990 28,688
June 1991 36,376
Jan 1993 45,209
Sept 1994 56,384
Mar 1995 64,707
Mar 1996 77,041
Mar 1997 87,030
Mar 1998 98,076
Mar 1999 104,241
Mar 2000 109,132
Mar 2001 113,148
Mar 2002 116,099
Jan 2012 117,392
The car also has 60k miles worth of hand written diary detailing all works within this period (as well as receipts).
Body & Paintwork
A real head turner, this Black Cosworth will have people smiling at you, and giving you thumbs up wherever you take it.
The paintwork is absolutely fantastic, all panels are original panels and the car has no ripples or dents, no distorted panels, and best of all the paintwork gives a fantastic shine, it really does look fantastic!
All rubbers are like new, and just emphasises the fact that the car has always been kept indoors and away from wet weather.
We have had the car fully professionally undersealed (underside fully cleaned down & checked prior to underseal application)
Interior & Trim
As you can see from the pictures, the original seats are in good condition with only very little softening of the drivers seat bolster, and they have no rips or tears anywhere,
in fact the cloth still retains its shape.
All switches and gauges work as they should, including the Multi-Function Display unit.
The stereo has been replaced with an aftermarket headunit.
(No cutting of the door cards or rear shelves has occurred).
The boot is immaculate, looking as though it has barely been used at all.
The dash has been replaced with a non Cosworth dashboard at some point,
likely due to the fact that they are less prone to cracking.
Engine
The engine runs perfectly well, starts first time every time, it does not smoke at all, either on start-up, overrun, or when on boost.
Fast Road chip fitted by Bailey Motorpsort.
Baines Race Engineering rebuilt bottom end @ 54,000 miles.
Group a headgasket fitted.
The car drives very well, perfectly tight and straight.
The gearbox is extremely smooth, with no whines, or crunches at any speed and benefits from having had a brand new clutch fitted as detailed below.
A full stainless steel exhaust system has been fitted, which gives a nice tone without being over the top.
The car has just had a full service, full list below:
New Clutch
Flywheel skimmed
Clutch cable
New battery
Oil & Oil Filter
Genuine Spark plugs
New Crankshaft & Camshaft seals
New Cambelt
Running Gear
This Cosworth drives very well indeed, the brakes work perfectly and are excellent, even by todays standards.
The steering is tight and precise, all suspension bushes are in good condition, having all been checked as part of the major service which we have had carried out on this vehicle.
All wheels have been professionally re-furbed to the correct finish a number of years ago, and still look fantastic, and all tyres are in very good condition.
Having had a number of Sierra Cosworths, we can assure you this one is a pleasure to drive.